Library and archives staff
Sarah d'Ardenne
Head of Library Services, T 0161 907 5244 E sarah.dardenne@rncm.ac.uk
As Head of Library Services, Sarah is responsible for the Library service and special collections (including the Archive and Collection of Historic Musical Instruments). Her role includes:
Providing leadership in the development of the Library and its services
Working with other Library staff to develop policies and procedures suitable for the Library
Representing the Library on various College committees
Evaluating statistics and feedback to develop the Library services as required
Manage online resources, including My Athens access
Manage reading lists
Deliver information literacy sessions
Sarah is also the College's Data Protection Officer, responsible for Data Protection and Freedom of Information policies and procedures.
Sarah has a music degree from Cardiff University and studied for her Masters in Library and Information Studies at University College London. She is a chartered member of the Chartered Institute of Library and Information Professionals (revalidated 2018) and is an active participant of IAML (UK&Irl) where she has been on the committee for the C.B. Oldman Prize. Sarah achieved Associate Fellowship of the Higher Education Academy in 2018 through delivering information literacy training to students. Sarah is a keen musician and sings in a Manchester based chamber choir.
Sarah's working days are Mondays-Wednesdays and Fridays.
Geoff Thomason
Deputy Librarian (Research), T 0161 907 5245 E geoff.thomason@rncm.ac.uk
Deputy Librarian, Geoff has spent his professional career at the RNCM, having obtained Bachelor's and Master's degrees from Manchester University and his Library Diploma from the former Manchester Polytechnic. In 2016 he completed his Ph.D at the RNCM, examining the role of Adolph Brodsky in establishing a chamber music culture in late 19th and early 20th century Manchester.
He is active in the International Association of Music Libraries and was the international the Chair of its Commision on Service and Training 2009-14. He was Education Officer for the UK and Ireland branch 2011-2018, having previously held other national officerships
Also an active musician, Geoff plays clarinet, recorders and piano, and is currently getting to grips with the organ. He also composes and arranges for a wind ensemble he plays in. With 30 years experience in musical journalism, he has freelanced for The Guardian and City Life and written numerous programme and liner notes as well as academic articles.
Responsibilities include:
Teaching information literacy and research skills
Cataloguing printed music and books
Library contact for PLP students
Research active
Engaging in musicological research
Geoff's working days are Monday - Thursday.
Alison Allerton
Senior Assistant Librarian (Job share), T 0161 907 5362 E acquisitions@rncm.ac.uk / alison.allerton@rncm.ac.uk
I read music at Bristol University and Library and Information Management at Manchester Metropolitan University. I played in several orchestras whilst at Bristol ranging from the baroque orchestra to the new music ensemble. I led my county youth orchestra and University symphony orchestra. I also sang in operas and was an active chamber musician. I now sing in my church choir and am deputy organist. Having played violin, piano and flute from an early age, I enjoy listening to and playing a wide range of music.
I started working in the RNCM Library in September 2000 as a Library Assistant and, after attaining my PGDip in 2003, moved to my current role.
I am part of a job share with Julia. We are responsible for sourcing and ordering new music and books for the Library. Students and staff are free to submit requests for new items, which we do our best to obtain. We also replace old Library stock and purchase standard repertoire and text books. If you have a request for purchase, please contact us.
I work on Mondays, Wednesdays, Fridays and some Saturday mornings.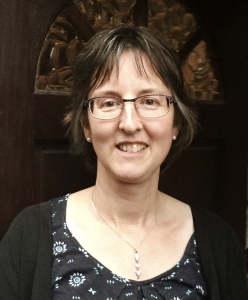 Julia Knight
Senior Assistant Librarian (Job share), T 0161 907 5362 E acquisitions@rncm.ac.uk / julia.knight@rncm.ac.uk
I obtained my degree in English literature from Leicester University. Subsequently I have worked in libraries at Exeter University, Manchester Metropolitan University and Building Design Partnership. I can play the violin and piano and was brought up on classical composers like Bach, Brahms, Handel and Chopin which I still appreciate as well as other kinds of music such as Gospel. I work two days a week in the Library as a job share with Alison Allerton. I spend most of my time ordering and receiving new books and music, which includes contacting and liaising with students, staff and suppliers.
I work Tuesdays and Thursdays.
Toni-Ann La-Crette
Senior Assistant Librarian (Reader Services), T 0161 907 5243 E toni-ann.la-crette@rncm.ac.uk
I have an English Literature and History Degree from University of York, a Post-Graduate Diploma in Library and Information Studies from Aberystwyth University, and a Masters In Creative Writing (Poetry) from Manchester Writing School.
I sang in University of York's gospel choir, and played violin in my London borough's Youth Symphony Orchestra.
I have worked in various University libraries over the last 11 years, and was sole Librarian at a military and defence think tank on Whitehall. I was Assistant Librarian at the Royal Welsh College of Music, and started as Senior Assistant Librarian at RNCM in November 2018.
I work full time Monday-Friday and some Saturday mornings
Responsible for the running of the library helpdesk
Administration of Exam Music
Administration of invoices and fines
Assisting in general day-to-day Library duties
Doug Badger
Senior Library Assistant (Audio-visual) (Job share) / Inter-Library Loans, T 0161 907 5243 E avlib@rncm.ac.uk / douglas.badger@rncm.ac.uk / interlibraryloans@rncm.ac.uk
I am a Senior Library Assistant (part-time) and am jointly responsible for the Audio-Visual section of the library and inter-library loans. I began learning the cello aged 10 and, having attended the Junior School of the Royal Conservatoire of Scotland, I obtained a BA in Music from the University of York before continuing my studies at the RNCM where I was awarded a PG Dip in Advanced Performance in 2000. Alongside my library role, I now pursue an active freelance career with orchestras and ensembles throughout the UK, including the BBC Philharmonic, Royal Liverpool Philharmonic, Opera North and Manchester-based contemporary music ensemble Chiasmus.
Maryam (Mimi) Atti
Library Assistant , T 0161 907 5243 E maryam.atti@rncm.ac.uk
My job in the library involves working at the library counter and helping students/staff with their enquiries. When new library stock arrives, I accession and process the music and books so that they are ready to go onto the library shelves. I also do shelving/shelf tidying and other general library tasks. I have a black belt in karate so when I am not at work, I spend time at the karate club. I also enjoy playing the violin.
Tonya Chirgwin
Library Assistant, T 0161 907 5243 E tonya.chirgwin@rncm.ac.uk
Tonya followed her Oxford Music degree with a Masters at Surrey University, and has recently completed a second BA in Church Music at Canterbury Christ Church. Originally a first-study flautist, she is now Organist and Worship Co-ordinator at Christ Church, Chester, and is a Licentiate of the Royal School of Church Music. She qualified as a librarian in 1998, gaining her Chartership in 2001 and revalidating it in 2016. She has contributed to a number of books and journals, both as a musician and as a librarian. Her research interests include composition and orchestration, and Baroque and Twentieth-Century music, and she is currently developing a specialism in sacred music composition within and outside liturgy.
Tonya's Library role includes:
Helping students and staff to find books and resources in the library
Answering questions about library resources
Checking books and other items in and out of the library (so the alarm doesn't go off!)
Keeping the periodicals up to date and encouraging students to use them
Preparing new books and music to be put on the shelves
Tonya's working days are Mondays - Wednesdays, Term-Time only
Bethany Duncan
Library Assistant, T 0161 907 5243 E bethany.duncan@rncm.ac.uk
Beth graduated from the RNCM in 2017, and has since enjoyed working in a variety of different roles. Alongside her work in the library, Beth teaches at Sheffield Music Academy and works as a Practice Assistant at Chethams School of Music. Still an active bassoonist, Beth enjoys freelancing in her free time.
When not working, Beth enjoys going for long walks in the countryside, doing yoga and drinking whisky (not at the same time!)
My role in the library includes:
Being available on counter to manage loans and returns, and to answer queries from students and staff
Accessioning and processing new stock so it is ready to be borrowed
Training and helping bursary students with shelving and shelf tidying
Repairing music/ books that have been damaged
I work part time Wednesday to Friday, so if you have any questions do come and find me on those days!
Reuben Rowlands
Library Assistant, T 0161 907 5243 E reuben.rowlands@rncm.ac.uk
As a Library Assistant, my role includes, but is not limited to:
Being available on counter to manage loans, renewals, and returns
Accessioning and processing new stock and getting it shelf-ready
Repairing music/ books that have been damaged
Helping students and staff to find books and resources in the library
Being a friendly face to welcome new library users, and answering queries from students and staff
I work part-time Monday-Thursday, so do come and find me on those days!
After a BA in Music with Linguistics from the University of Manchester, I stayed at UoM to do a Master's in Music Composition, and after graduating in the Winter of 2020, I started working here as a Library Assistant from the beginning of 2021. Outside of composition, I am a saxophonist, a conductor, an arranger, and I lead a new music organisation called Vanguard New Music, which will hopefully have more projects coming soon!
When not working on music-related activities, I enjoy cooking, fashion, queer history and culture, and anything Japanese.
Heather Roberts
College Archivist 0161 907 5211 heather.roberts@rncm.ac.uk
I manage and develop the collections and services of the RNCM Archives. I facilitate access to the collections for staff, students and external researchers. Using blogs, the College website, Twitter (@rncmarchives), exhibitions (keep an eye on the concourse display cases for small exhibitions) and a host of other methods and mediums, I promote the beautiful and fascinating collections here at the College.
I studied Philosophy at the University of St. Andrews and completed my professional qualification in Archives Administration with the University of Aberystwyth in 2013. I've working in business, community and specialist archives for 5 years and I love it. I look forward to helping you make the most of your College's inspiring archive collections. Have a look at the archives catalogues for more information http://www.archives.rncm.ac.uk/
Last modified: Tuesday, 7 September 2021, 3:32 PM